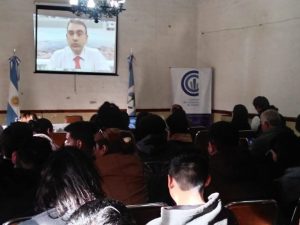 Europlatforms, following the collaboration agreement signed with the World Organization of Cities and Logistics Platforms, participated by videoconference with the first international seminar Zapala Logistics City, held in the Argentine province of Neuhén in August 2019.
In this participation, Europlatforms was represented by Manuel Fco Martínez, General Secretary of the organization, who showed the large audience the benefits of logistics platforms and the advantages of installing on them.
The participation of Europlatforms was received with great enthusiasm by the participants in the seminar, with numerous questions related to the topic of fiscal enclosures and services related to logistics and transport areas.